History of the Endocrine Society of Australia
Quick Links
The origins of ESA
In May 1957, Keith Harrison in Sydney and Bryan Hudson in Melbourne proposed an association of physicians interested in diabetes and metabolism. By October of that year, a committee was set up to explore the formation of a society for the study of diabetes and endocrinology, and a programme was planned for a scientific meeting. A draft constitution was formulated and, in February 1958, all those interested in the formation of an Endocrine Society were invited to a meeting in Sydney in June. Sixty-nine people attended this first meeting, and these and a further 30 interested people became the foundation members of ESA.
The Endocrine Society of Australia was officially formed in 1958 with the aims of advancing knowledge and practice in endocrinology (the study of hormones) and to bring together physicians and scientists in this area of study. It was one of the first medical specialist societies in Australia. From humble beginnings, it has flourished to a society with over 1000 members which annually runs three successful clinical and scientific meetings, and provides scholarships, research grants, and travel grants for its young members. Members have received international and national recognition within the field and more generally. Collaboration between scientists and physicians has been a key strength of the Society.
Adapted from:
Bach L (2008) 50th Anniversary Speech, Endocrine Society of Australia ASM, Melbourne. Download speech.
Phillips DJ, Harding PE & Bach L (2011). The history of the Endocrine Society of Australia. The first 50 years. Health History,

13(1):90-106.

Download article.
The following documentation details the initial communications between founding members to form a national endocrine society in 1958.
50th Anniversary (2008)
On 25 August 2008, a reception was held at Government House in Victoria, by invitation of Governor Professor David de Kretser, the 27th Governor of Victoria and ESA Life Member. ESA President Leon Bach addressed the membership at this auspicious event, recognising the history of one of the oldest medical societies in Australia.
An excerpt from Professor Leon Bach's speech:
"... ESA has over 900 members, runs 3 highly successful scientific and clinical meetings, provides higher degree students and postdoctoral fellows with financial support, and makes 3 junior investigator awards and 3 international travel awards.We are involved in clinician training, and providing advice and input to Government and professional bodies on endocrine matters. Our members have made internationally significant scientific and clinical discoveries and we count among our members a State Governor, a University Vice-chancellor, RACP Presidents, Faculty of Medicine deans, Institute heads, and Fellows of the Australian Academy of Science. Sometimes we are too modest in acknowledging our achievements but I think we all agree that our founders would be justifiably proud of what their Society has become."
Download: Professor Leon Bach's speech
As part of the 50th anniversary celebrations, a supplement was prepared by Professor David Phillips in collaboration with colleagues, documenting the Society's history. This supplement was included in the proceedings of the annual scientific meeting.
Download: Supplement to the 2008 Annual Scientific Meeting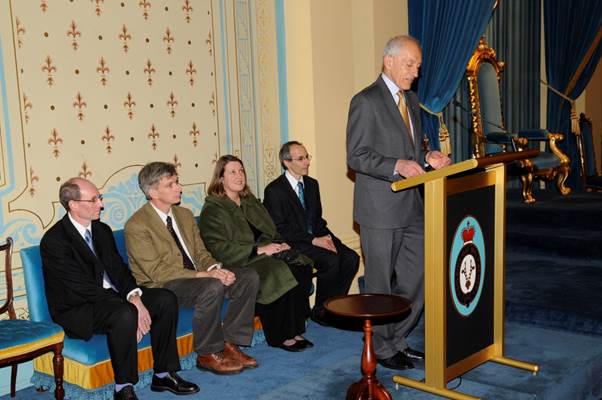 Governor David De Kretser addressing the ESA membership at Government House with (from L-R) David Phillips, Mark McLean, Vicki Clifton and Leon Bach.
Endocrinology in the 21st Century
The 21st Century has seen major changes in the way clinical endocrinology is conducted. Some of these changes include the move away from being a predominantly in-patient to predominantly outpatient-based specialty. Advanced trainee demographics have also changed, with a 79% to 21% female to male gender balance, with many trainees choosing to practice in community outpatient settings rather than in teaching hospital positions.
The Covid pandemic of 2020 allowed the widespread introduction of telehealth for clinical consultations. The rapid employment of telehealth has enabled better service provision to isolated communities.
Increased progress in endocrinology remains dependent on basic science and translational research. However, huge challenges remain for researchers, who operate in an ever-more competitive research funding environment. As an illustration, overall funding success rates in NHMRC schemes have dropped from 22% in 2013 (totaling just over $811 million) to 12.9% in 2020 (totalling just over $726 million) [Source NHMRC1].
In 2015, the national Government created the Medical Research Future Fund (MRFF), as an investment to pay for medical research initiatives. With ongoing support, this fund has grown to $20 billion, with funding schemes based on areas of national priority. The funding schemes currently comprise 20 initiatives under 4 themes (patients, researchers, research missions and research translation).
1 https://www.nhmrc.gov.au/funding/data-research/outcomes-funding-rounds
Past Office Bearers
President
Vice President
Secretary
Treasurer
Councillors
1958-60
Ewan Downie
E. Pincus Taft
E. Pincus Taft
1960-62
Cliff W.Emmens
Keith Harrison
Keith Harrison
1962-64
Keith Harrison,
Ian D. Thomas
Ian D. Thomas
Cliff W. Emmens (March '63)
1964-66
Basil Hetzel
Victor M. Trikojus
Ivan G. Jarrett
Ivan G. Jarrett (1965), Dr R I Cox (1966)
Dr A Blackshaw, Dr R I Cox, Dr I Hales, Prof B Hudson, Prof WV Macfarlane, Dr I Thomas
1966-68
Bryan Hudson
Victor M. Trikojus
Roger Melick
Ivan G. Jarrett
1968-70
E. Pincus Taft
Ron I. Cox
Roger Melick
Ivan G. Jarrett
A W Blackshaw, B Hudson, L Lazarus, T S Reeve, R D H Stewart
1970-72
Ivan G. Jarrett
Ken A. Ferguson
T.J. Martin
Les Lazarus
R D Gordon, F I R Martin, H P Taft, Frances Thomas
1972-74
Ken A. Ferguson
Les Lazarus
Richard D. Gordon
Les Lazarus
R I Cox, F I R Martin, Frances Thomas, J R Turtle, R F Seamark
1974-76
Henry G. Burger
John R. Turtle
Sol Posen
Cres J. Eastman
D Gutteridge, P E Harding, A E Stocks, E G Wilmshurst
1976-78
Sol Posen
John P. Coghlan
Philip E. Harding
Cres J. Eastman
H G Burger, R D Gordon, D Gutteridge, C D Nancarrow, R W Retallack (Appointed 1978)
1978-80
John P. Coghlan
Cres J. Eastman
Richard G. Larkins
John W. Funder
D J Chisholm, D H Gutteridge, C D Nancarrow, M L Wellby
1980-82
Cres J. Eastman
John W. Funder
Don P. Cameron
Gary L. Warne
J P Coghlan, R G Larkins, L Lazarus, M L Wellby
1982-84
John W. Funder
Richard G. Larkins
Rob C. Baxter
Gary L. Warne
D P Cameron, J Corcoran, S Judd, P Pullan
1984-86
Richard G. Larkins
Don P. Cameron
Rob C. Baxter
David M. Hurley
L Harrison, S Judd, J R Stockigt, G L Warne
1986-88
Don P. Cameron
Rob C. Baxter
Stephen J. Judd
David M. Hurley
G Tregear, L Harrison, G L Warne, J Eisman
1988-90
Rob C. Baxter
Stephen J. Judd
Jim R. Stockigt
David J. Handelsman
J Eisman, R V Jackson, G W Tregear, P J Fuller
1990-92
Jim R. Stockigt
John A. Eisman
Geoff W. Tregear
David J. Handelsman
R. Smith, R. V. Jackson, P. J. Fuller. R. L Prince
1992-94
David J. Handelsman
Peter J. Fuller
Richard L. Prince
Duncan J. Topliss
R V Jackson, S J Judd, K Ho, G P Risbridger
1994-96
Peter J. Fuller
Richard L. Prince
Gail P. Risbridger
Duncan J. Topliss
P A Crock, R V Jackson, R J Rodgers, J D Zazac
1996-98
Duncan J. Topliss
Ray J. Rodgers
Gail P. Risbridger
Moira S. Lewitt
K Ho, R H Mortimer, R Smith, Z D Zajac
1998-00
Ray J. Rodgers
Jeffrey D. Zajac
Ken K.Y. Ho
Moira S. Lewitt,
Brendan J. Waddell (May '99)
S Stanton, R C Cuneo, R Smith, B J Canny
2000-02
Ken K.Y. Ho
Brendan J. Waddell
Ben J. Canny
Cathie L. Coulter
Dr Sonia Stanton, A/Prof Ross Cuneo, Prof Evan Simpson, Prof Bruce Robinson
2002-04
Ben J. Canny
Jeffrey D. Zajac
Ross C. Cuneo
Cathie L. Coulter
Dr John Burgess, Dr Catherine Choong, Prof Bruce Robinson, Prof Evan Simpson
2004-06
Jeffrey D. Zajac
Leon A. Bach
Mark McLean
Vicki L. Clifton
Dr Catherine Choong, Prof Evan Simpson, Prof David Healy, Dr David Torpy
2006-08
Leon A. Bach
Mark McLean
David J. Phillips
Vicki L. Clifton
Tim Cole, Evan Simpson, David Healy, Bu Yeap, Peter Ebeling, Elke-Christine Hendrich
2008-10
Mark McLean
Vicki Clifton
David J. Phillips
Bu Beng Yeap
Tim Cole, Evan Simpson, Peter Ebeling, David Healy, Warwick Inder, Helena Teede, Leon Bach
2010-12
Vicki Clifton
Peter Ebeling
Timothy Cole
Warrick Inder
Bu Yeap, Evan Simpson, Helena Teede, Chen Chen, Nicolette Hodyl, Belinda Henry
2012-14
Peter Ebeling
Helena Teede
Timothy Cole
Warrick Inder
Morton Burt, Chen Chen,Nicolette Hodyl, Belinda Henry, Ashim Sinha, Bu Yeap
2014-16
Helena Teede
Warrick Inder
Tim Cole
Nicolette Hodyl
Bu Yeap, Chen Chen, Belinda Henry, Ashim Sinha, Morton Burt, Craig Harrison, Peter Ebeling
2016-18
Warrick Inder
Tim Cole
Morton Burt
Nicolette Hodyl
Bu Yeap, Belinda Henry, Ann McCormack, Mathis Grossmann
Craig Harrison (2017)
2018-20
Tim Cole
Bu Yeap
Morton Burt
Belinda Henry
Ann McCormack, Mathis Grossmann, Shane Hamblin, Diana Learoyd, Emily MacKenzie,
2020-2022
Bu Yeap
Ann McCormack
Mathis Grossman
Belinda Henry
Ann McCormack, Shane Hamblin, Diana Learoyd, Emily MacKenzie, Ada Cheung, Fran Milat